For outstanding web designing, it is important to follow certain rules and guidelines. There are plenty of styles and directions in which your website can go, from playful to vibrant, from classy to minimalistic, etc. The final look of the website should show your brand identity, but some basic rules should be always applicable. A good web design will enhance the experience and functionality of the website. Properly planned web design will let the users understand everything in one sight. Here, we have discussed five basic web design tips to make your website compelling: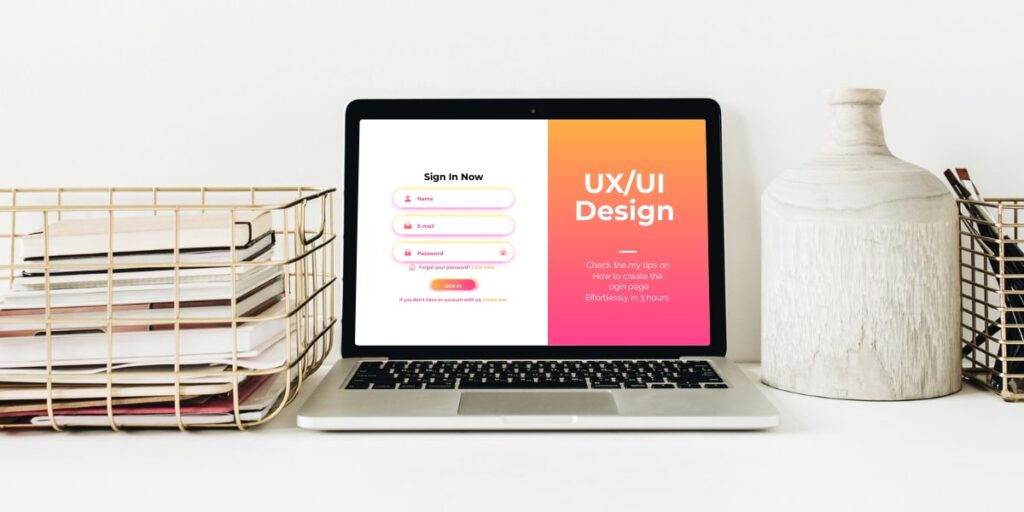 1. Minimalist Homepage Design
Homepage delivers the core message of your website. Users hardly read every single word on the website. Rather, they prefer to quickly scan the page, pick out a few words, images, and sentences to find out the vital information provided on the website. While designing a web page, keep this behavior in your mind, and better to appeal to the emotions of websites visitors instead of word count.
Design the website with the least attention span and use modern website design so that the users do what you want them to do. While designing a website, keep the following things in your mind to make the homepage of the website inviting and presentable.
Keep important content above the fold: Visitors should understand what your website is all about as soon as possible, without having to scroll or click anywhere.
Appropriate Spacing Between Content
Whitespace plays a major role between the elements. Leave some blank areas on your website so the web design looks balanced and alluring. White spaces let you avoid chaos in design and help users to catch important phrases only.
Add Imagery
Good-quality media features like pictures, icons, and vector arts can do wonders in your web design. Moreover, the human brain can process images quite faster than words, providing a better way to communicate with website visitors.
Include A Call-To-Action
From signing up to conversion, you should encourage the site visitors to do the actions that you wanted. Place a call-to-action (CTA) button on the homepage of the website to increase the conversion rate.
02. Create Visual Hierarchy In Mind
In web designing, hierarchy is a very important thing to consider to efficiently display your data. With appropriate use of hierarchy, you can lead the attention of the website visitors to the intended elements. The important elements in the visual hierarchy are:
Size And Weight
The top elements should be highlighted like the name of your business, logo, and main heading. You should make them visually prominent so that nobody can miss these. Website visitors are naturally attracted to large font lengths and bold titles
Element Position
With the help of an appropriate website layout, you can draw the attention of websites visitors to any side. For instance, place your logo at the header, position, the CTA button at the center of the screen.
When you have built a clear hierarchy of data, then website visitors can't help but unconsciously start following the highlighted portion. Further, use contrast, color, and spacing for accentuation. You can some potent web design elements like grids and strips to create a strong visual hierarchy.
3. Easy-To-Read Web Design
When the readability of your website is high, then website visitors will be able to easily scan or find the important details. In simple terms, they can effortlessly find the required data. To achieve high readability of your website, you should try the following rules:
Use Contrast
Appropriate contrast between the background color and text color is imperative to enhance the readability or accessibility of the website. The website color scheme can be based on the brand color, but it is important to ensure that there is appropriate contrast between the elements. You can use an online tool like a contrast checker to maintain an appropriate contrast level on the website.
Large Letter Size
Most people cannot easily read small text sizes. According to the thumb rule for web design, your text size should not be less than 16pt. But, keep in mind it is also dependent on the font type you have selected.
Type Of Fonts
There are plenty of fonts that we can use. We recommend you choose serif fonts for text-based information on your website. Sans serif fonts are typically the best choice for lengthy online texts – like the one you're currently reading. You can also create interesting font pairings by mixing these different types. There are plenty of more decorative display fonts. If you want to use one of these, then make sure that you do not overuse these. Otherwise, these can create an overwhelming effect.
Limit Number Of Fonts
You should not use more than three different typefaces on one website. Sometimes, you may need an elaborative font combination. But always keep in mind so many typefaces can create chaos and cluttered visual appeal.
Utilize Text Themes
To create a clear and transparent hierarchy, you should use text of varied sizes and weights, ranging from large fonts for titles to small fonts for the subheading, and even smaller for body text. This website design tip will help to make sure that your website looks well organized and efficiently managed. Also, you can use this tip to draw the attention is website visitors to a specific section.
4. Easy To Navigate Website
You would don't want your users to leave your website because they find it difficult to navigate. A website that is easy to navigate not just keeps the website visitors engage, but also helps search engines index your content.
Link Your Logo To The Homepage
It is one of the most obvious things that the website visitor would be expecting. If you don't have any logo for your website, then it is recommended to create one for you.
Easy To Find Menu
No matter what is the reason behind creating the website, always keep in your mind that the website menu should be easily visible. Also, remember that it should be structured according to the importance of every section.
Offer Vertical Navigation
If you have created a long-scrolling website like a one-page website, then you should use an anchor menu. It means that the user should be able to reach the desired section with just one click. Also, there should be a 'Back to Top' option so that they can easily move back to the top of the website.
Pay Attention To Footer
Most people consider that footer is the last thing to consider on your website. Well, you should place all the important links in the footer section like contact details, social media icons, and any other relevant links.
05. Create Mobile-Friendly Web Design
The website visitors should be able to enjoy visiting your website, no matter on which device they are browsing. We recommend you create a mobile-friendly version of the website so that you can maintain pace with the growing world. Also, keep in mind that your mobile website should be clean and there should no clutter.