Quick Summary: Mobile apps are definitely on the rise and the proof is the number of applications that we have right now in our phones. To stay competitive and win the race of capturing an audience, mobile applications play a key role. Creating mobile apps by integrating new technologies would help to create an unforgettable customer experience. Though there are various new technologies that can be used in creating mobile apps, Augmented Reality (AR) and Virtual Reality (VR), Artificial Intelligence (AI), the Internet of Things (IoT), and Beacons are some of the top trends in mobile app development to watch in 2023.
Introduction
Mobile phones have become a necessary part of our lives. Nobody can even imagine sustaining their lives without it, providing an opportunity for marketers to reach their target audience with mobile applications. Everybody has a smart mobile phone and all of them have some kinds of applications on their phones as per their preference or requirements.
According to the report published by Statista Research Department number of mobile app downloads is growing worldwide and this trend is not going anywhere soon.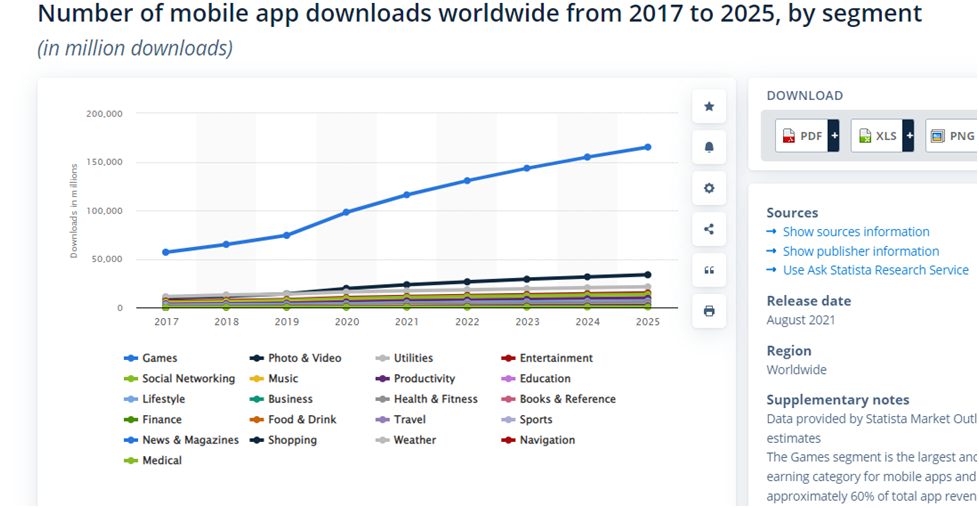 Business owners are leveraging this opportunity and reaching their targeted audience through their mobile apps. Now, there is a surplus of mobile apps available in the market, and surviving in the cut-throat competition is very difficult.
Adding new technologies and interesting features to your mobile app will let you stay ahead of the competitors. With every passing year, technology is evolving, and embracing the new trends is important for your mobile app success. Want to know what technology trends to follow while developing your mobile app in 2023?
Mobile App Development Technologies To Implement
While various new technologies are introduced this year, here are the top 7 you can incorporate into your mobile apps to create ultimate user experiences.
1. Augmented Reality (AR) and Virtual Reality (VR)
AR and VR technologies are garnering the interest of people around the whole world and it is just a beginning. These new technologies have a lot of potential and they are transforming all fields, and mobile app development is no exception.
One of the most common examples of AR in mobile apps is Snapchat– a widely popular multimedia messaging app with trendy filters. This application can add some interesting filters on the user's face that look real.
Now, here comes VR. Full Dive VR is a mobile app that uses the Virtual Reality technique. This application host plenty of VR videos, photos, and over 500 games. Also, it features a VR store where you buy VR apps, and markets, providing a completely immersive experience.
These are just a few examples of AR and VR in mobile apps.
Lenskart is also using the AR technique to allow users Try-On glasses before buying. This technology enhances the online buying experience of the customers. Similarly, you can use these technologies to make any application more engaging for users.
Every year, the number of mobile apps using AR & VR technology is growing exponentially. In other words, we can say that AR & VR technologies are shaping the mobile app development industry.
If you want to get more users for your products/services and want to stay ahead in the game, then incorporate the latest technologies in your mobile applications.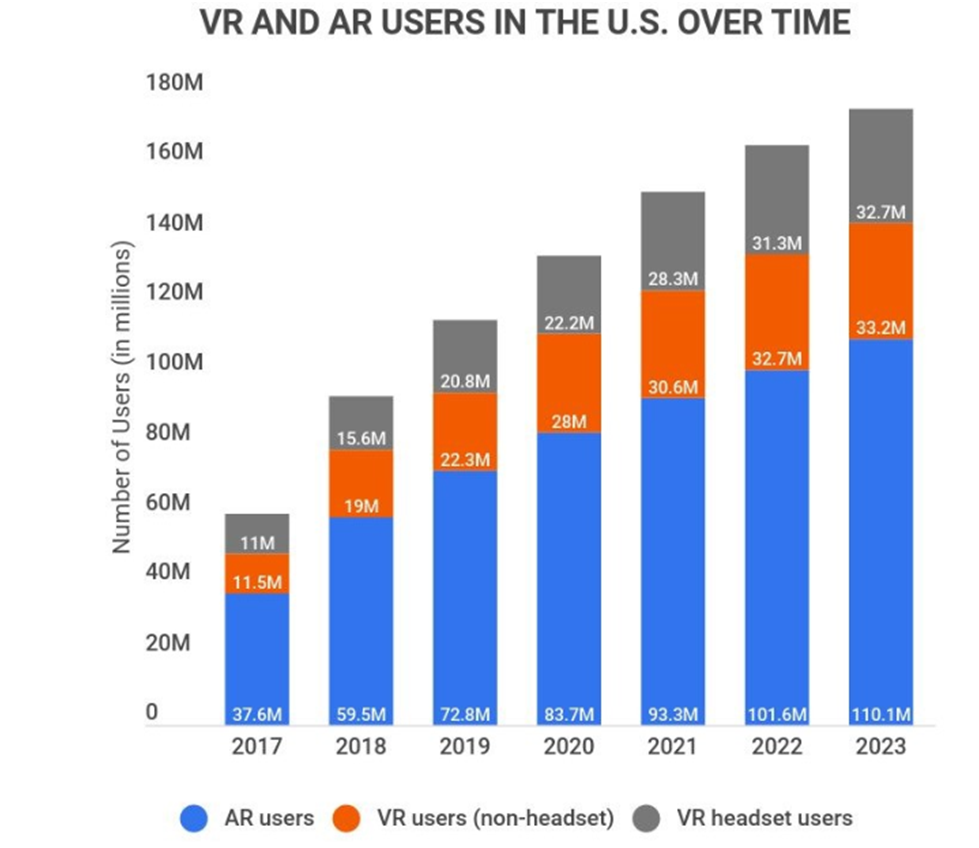 2. Artificial Intelligence (AI)
Artificial intelligence is when machines start responding and solving problems like human beings. Now, Artificial intelligence is all the rage. This technology has the potential to bring revolution in each and every field and this big revolution has already begun.
One of the biggest examples of an AI-based app is Google Assistant and all of us are familiar with this app. With this app, we can give Voice commands after saying OK Google" or "Hey Google" wake words.
Not just Google Assistant, but there are so many other applications like Facetune, Google Maps, Alexa, Ally Financial, Cleo, and so on.
Moreover, ChatGPT- the most popular app these days is also driven by AI technology. ChatGPT is a chatbot that is powered by artificial intelligence and it generates text when a user enters a prompt. The result generated by this app is so efficient and up to mark that it looks like we are doing a conversation with a genius.
I asked ChatGPT, how to create an AI-based app, and here is the step-by-step process shown by it. Similarly, you can anything or everything. Also, you can ask ChatGPT to write a code for you. Just take care of one thing you need to enter the right prompt to get the best results.
With these examples, you can understand that AI is already marked its footprint in various industries. If you want to defeat your competitors in the online world, then you can create an AI-based app for your business. Hire the experts who can understand your needs and give the best results. It is just the beginning, this technology has much more potential which yet needs to be discovered.
3. Internet of Things (IoT)- Enabled Mobile Apps
How many of you are using your smartwatches to receive phone calls, or reading text messages? I think a lot!
Have you ever wondered how it is possible?
Internet of Things!
Ranging from smartwatches to smart homes, there are so many things in our day-to-day lives that are connected to the internet and enable us to control things remotely.
IoT technology allows us remotely control any device like answering a phone call through your smartwatch or controlling your washing machine through your phone while sitting in your office.
All top brands are using this technology to provide a better experience to their customers. IoT has made people's lives easier and smarter, leading to the growing demand for IoT-based devices and applications. According to Statista's report, IoT devices will grow from 9.7 billion in 2020 to 29 billion in 2030.
It is time to leverage this trending technique and create highly engaging and popular mobile apps for your business. These kinds of mobile apps will help to grow your business, get more customers, earn high profits, and so on.
4. Beacons
Some businesses have started taking advantage of untapped beacon technology in their mobile applications.
How does Beacon technology work?
Beacons are very small, wireless transmitters that produce low-energy Bluetooth signals for detecting smart devices in proximity. Each beacon has a unique code called identifier and this code is transmitted by beacon several times in one second. Smart devices around the beacon with enabled Bluetooth and software installed will receive the signal. The smart devices (usually a smartphone) will receive the signal and display the content on your phone.
This technology can help in proximity marketing and let you connect with your targeted customers at strategic locations. Not just proximity marketing, but it can help in users' experiences in various ways.
This technology was first introduced for marketing purposes by Tech-giant- Apple in 2013. This technology has come a long way since its debut and it is expected to grow further and surpass $25 billion by 2024.
Launch Here app is one of the examples of mobile apps leveraging Beacon technology. This app is used to launch other apps and help in automating various tasks on your iOS device.
To make this app work, you need to place multiple beacons around your home and when you bring your iOS device near any beacon, the Launch Here app will trigger the associate app with that beacon.
When you enter the screen lock code and open the screen, a notification will trigger to open the associated app. You can launch that app with just one swipe.
Getting started is easy!
Isn't it?
Let's understand it with an example,
When you come near your coffee machine, the Brew timer app will trigger. Similarly, when you come near your TV, the TV remote app will launch, and when you come near the fridge, the diet plan app will trigger.
Beacons based slowly picking up the pace, but this technology would create a buzz in the near future.
5. Mobile Commerce
Mobile Commerce apps are on the rise because people love to do shopping on mobile phones. People are enjoying the ease of shopping while sitting on their couch at home, or an office chair.
M-Commerce mobile apps have made it possible to get products/services to your doorsteps with just one click.
The biggest example of an M-commerce app is AMAZON.
Who does not about this company and its mobile app? This business has captured audiences around the whole by providing a pleasant customer experience through m-commerce apps.
Not just Amazon, there are many other apps like these such as Alibaba, eBay, Trivago, and so on.
M-commerce is a subcategory of E-commerce or we can say that shopping done on mobile apps on your phone is known as M-commerce. And, M-commerce is rising at a fast pace. Businesses that fail to take advantage of this kind of new technology apps would not extend their reach and might fail to survive in this tough competition.
What are the mobile app usage and growth statistics for 2023?
Mobile applications usage is growing in number and this trend is not going anywhere soon. There are more than 1.96 billion apps in the Apple app store and 2.87 million apps in the Google play store. It is expected that mobile applications will generate more than $935 billion in revenue this year.
How to create a mobile app in 2023?
To create a successful app in 2023, you need to follow some steps:
· Collect ideas for your app.
· Determine and know your target audience.
· List down important features to add to your app.
· Find what your competitors are doing.
· Pick the right approach for app development.
· Invest in security and maintenance.
· Implement App Store Optimization techniques.
What features make an app successful?
A mobile app that is secure, user-friendly, integrated with new technologies, and highly responsive is always successful.