Do you know that old marketing tactics are becoming less effective with the introduction of new methods? It is of utmost importance that you should be a forward thinker marketer. Otherwise, you may not be able to drive the desired results by using just old marketing tactics.
Out of various newly introduced marketing tactics, content marketing is one of the widely used methods.
Table of Contents
Content Marketing
It is a kind of marketing approach which is mainly focused on creating valuable, attractive, consistent, and relevant content to retain old clients and attract new ones. It would ultimately drive profitable results.
With the content marketing strategy, you will provide helpful and relevant content to the customer rather than promoting your products or services. Your main objective while creating content is to solve the troubles or answer the queries of readers. After rolling out Google's Helpful Content update, all good content will start ranking high in Search Engine Result Pages (SERPs)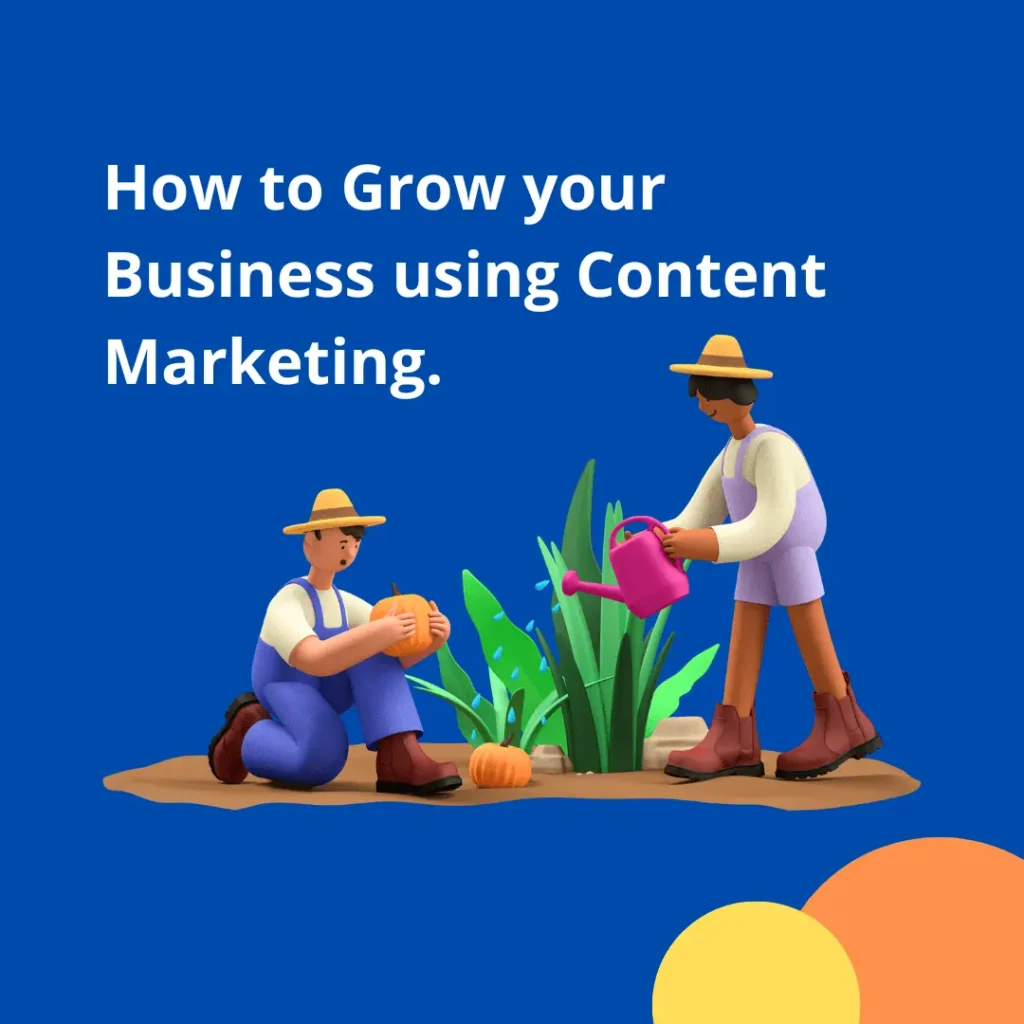 Why Should You Do Content Marketing?
One of the best ways to get repeat customers and new customers is to gain the trust of people. And, there could be nothing better than content marketing for gaining the trust of customers. By implementing the right content marketing strategies, you can develop a relationship with a targeted audience, improve your conversion rate, create more leads, get repeat customers, and so on. There are so many benefits of using content marketing along with various digital marketing tactics. Some of the top benefits of doing content marketing are listed below:
Get Repeat Customers
When you will repeatedly post helpful and valuable content for your targeted audience, then you will definitely gonna get repeated readers. Consequently, you will also start receiving repeated customers for your products and services. But, it is imperative to consider various factors while creating content.
Plain, emotionless, and non-helpful content would not be able to engage the audience for long. Content creation is not just limited to article and blog post creation, you can create any kind of content such as images, videos, emails, etc. Regularly creating attractive social media posts will significantly improve the customer retention rate. No matter what kind of content you create, you need to ensure that it is useful and engaging for the audience.
Get More Followers on Social Media
Content marketing will help you to quickly raise yours following on different social media platforms. Not just followers, but it would help to keep your followers engaged with your brand. Just getting followers on social media would not help your business to grow. It is essential to create attractive content and regularly post it on social media platforms. Use content marketing to your advantage and get involved with your followers on social media platforms like Facebook, Instagram, LinkedIn, and so on.
There are some tools that can help to track the effectiveness of your content marketing strategies:
And, so on.
Gain the Trust Of the Audience
Almost 81% of purchases start with online research (Source: SalesLion). Ask yourself that would you like to directly purchase from the retail store without doing any online research work. Whether it is clothes, shoes, machines, skincare, services, or anything else, almost all kinds of purchases start with search engine queries.
Thus, here is your opportunity to gain the trust of the audience by providing helpful content for the audience. By producing informational content related to your products or services, you will be able to gain the trust of the audience.
When you will share helpful and worthy content for your audience without asking for anything in return, then there are more chances that your targeted customers will show up again for your informational content.
Pro Tip: If your content would be displayed at the right time to the right audience, then it would help in improving your brand's reputation.
Generate More Leads
Generating valuable content would not just gain the trust of the audience, but also exponentially increase the conversion rate. When you will keep posting relevant content that your targeted audiences find worthy, then they would consider your business expert in that field.
Thus, they would likely purchase your products/services in near future. I would like to recommend you add CTAs in your content that will encourage readers to visit your online store and purchase your products or services. Strategically created content can guide the reader to the landing page, where they can buy targeted products and services.
Improve Conversion Rate
Original and helpful content drive conversions and there is no doubt about it. When your content will help readers to make an educated purchase, then they would prefer to visit your website and make a purchase quickly.
All you need to ensure while creating content is that it is original. Even, you should original graphics and avoid using stocks because readers do not find them useful at all. With your content, you can guide the reader on what to do next.
Save Thousands Of Bucks On Marketing
Content marketing will not cost you too much and help you to save thousands of bucks on your brand marketing. You need to do the following steps to make the most of your content marketing strategy:
Create a perfect content plan
           Create a page on your website for blog posts
Regularly update content
These three steps would help you to get the desired results without spending too much. Content marketing strategy is comparatively less expensive than other marketing tactics like hiring influencers, TV ads, etc.
How Content Marketing Works?
According to Research Gate publication, not all content marketing strategies can be successful. If you want to get exceptional results, then you need to have extraordinary expertise and skills. The main agenda here is to attract a targeted audience, gain their trust and retain them for a period of time.
We all know that our modern web is so noisy with flashy banners, subscriptions, pop-ups, etc., and all clamor for notice.
So, it is quite predictable why people are using adblocker.
How would you make your online content reach your customer when the web is already crowded?
How content marketing would help the business to get the best results?
By providing AWESOME and HELPFUL content.
When your content will help to solve the doubts and answer the queries of the consumer, then they could not help, but consume your content. They would even recognize that you are indirectly doing marketing. Even, if they get to know it, they would be going to appreciate your business for providing helpful content.
When it comes to content marketing, you should always keep one thing in your mind this strategy will be fruitful when you will create the best plan for it.
How To Do Content Marketing in 2023?
Do you want to use a content marketing strategy for expanding your business in the online world? You need to follow the below-mentioned steps to implement this technique:
Step 1: Set Up Your Goals
The first step of content marketing strategy is to set up clear goals and objectives. While setting up goals, you should make sure that they are relevant to your business. Some of the examples of goals for your businesses are:
Increase revenue
Get more customers for your business
Spread brand awareness
Gain the trust of people to improve brand loyalty
And, so on…
Choosing the right goal for your content marketing is important because you need to follow a different content plan for different goals. Failing to choose the right objective for content marketing would lead to failing the achieve your goals. So, it is the most important step that should not be ignored at any cost.
Step 2: Know Your Audience
Now, next, you need to know your audience. It would help you to find out what kind of content or message your audience is looking for. When you know your audience well, then you can easily figure out their likes and dislikes. It would definitely help you to create awesome according to your audience.
You can create How To Guides, Top Tips, Motivating content, and so on. When content is helpful for the audience, they would definitely give an upvote to your content and your business as well.
Step 3: Determine Your KPIs
Once you have set your objectives and determined your audience, now you have to set KPIs- Key Performance Indicators. With the help of KPIs, you can easily find out whether you are going on the right path or not. Also, you can determine how far you are from your goals and objectives.
You have to choose KPIs according to your goals. Some of the KPIs you need to track while implementing a content marketing strategy are as follows:
Organic website traffic
Session to contact rate
Bounce rate
Page views
Social sharing
By tracking these KPIs, you can easily determine your success rate. Want to know about KPIs that you should track while implementing a content marketing strategy? Read our blog: Top KPIs To Track To Deeply Analyze Your Content Marketing Strategy
Step 4: Choose Your Content Marketing Type
Content generation is not just limited to blog and article generation. There are different types of content marketing and you have to choose the right one for achieving your objectives. Different forms of content marketing are as follows:
Online content marketing
Social media content marketing
Infographic content marketing
Podcast content marketing
Blog content marketing
Video content marketing
While choosing the right type of content marketing, you should do a little bit of research work. You have to find out: what your targeted audience demand. What kind of challenges are they facing? How can you help them? Where do they spend most of their time? After getting the answer to all these questions, you will get to know what kind of content marketing is good for you.
Once you have selected your content type, then the next thing is to choose the marketing medium or channel. In simple terms, you have to select the platform where you want to publish the content.
Step 5: Set Budget Limits
Though content marketing is an expensive way to spread the word about your products and services, setting a budget limit is an important factor to consider. While setting up a marketing campaign, it is quite easy to be extravagant. The best way to control spending is by setting up budget limits. Call your marketing teams, discuss this topic, and set the limits.
Step 6: Create And Publish Your Content
Here comes the main step- create and publish your content. While creating content, you should wisely choose your words and create sentences. It is important to make sure that your content is easy to digest, engaging, and helpful. Before creating content, you should do deep research work on your topic.
Also, you should ensure that you are consistently creating content for your consumers. I would like to recommend you create a content calendar to optimize your content publishing strategy. A content calendar is for scheduling when and which content to post.
Step 7: Monitor & Analyze the Results
The last step is Measuring and analyzing the results generated by your content marketing campaign. You should check your goals and KPIs to find out whether your efforts are fruitful or not. Check whether you have achieved your KPIs or not. Have you even reached closer to your goal or not? Tools to use for content marketing are as follows:
Google Analytics
Buffer
Moz
Hotjar
Semrush
Hubspot marketing analytics
Plecto
Demand sage
Databox
Use any of these tools to gauge your plan and efforts. If you have not achieved your goals, don't worry. Soon, you will be there. If there is room for improvement, then don't hesitate to bring changes to your plan. After all, marketing is all about doing mistakes and correcting your mistake by finding the best solution.
How Content Marketing Is Linked With SEO?
When you create a masterpiece of content that readers find helpful, then it provides an opportunity to bring traffic to your website. After creating a perfect piece of content, you need to strategically link it with your website or online business. If users will find your information helpful, they would start trusting your business and they want to more about your online business.
NOTE: It is important to ensure that your content is performing well and showing high in search engine result pages.
Wrap Up
With effective content marketing, you can attract the target audience and keep them engaged. You can use content marketing techniques to spread brand awareness, gain the trust of the audience, get more customers for your business, etc.
To get started, you need to set objectives, find your target audience, choose content marketing, create content, and publish it. After that monitor your efforts and analyze whether you are going on the right way or not.